Plumtree School - Old Prunitians


THE PLUMTREE SCHOOL EUROPEAN

TOUR

– 1955


a

s recalled by Alan Howard

(Gaul 1952-1958) - November 2002
photos by Alan Howard - any additions welcome

The two teachers who organised and chaperoned the 25 odd 15 and 16 year-old Plumtree schoolboys on a trip around the UK and Europe in July and August 1955 performed an amazing feat. It was truly a fantastic holiday covering ten European countries. In retrospect, I may have been a little too young at 15 (going on 16) to fully appreciate the "academic" features offered, but none the less, a rare experience.

Cliff Coventry and Edgar Smith were the two teachers. Mr Smith and his wife – of German or Austrian origin I believe – seemed to have innumerable European contacts, and we saw many a schloss and museum. I do not recall any major mishap; there was occasional minor illness/'flu and the odd bit of misbehaviour, but nothing serious. I do not know the details, but there was a problem with the ship or the booking, and we had to leave a couple of weeks early and come back a week or so late. But who cared. As it happened, my parents who were over in England at the same time, said later that it had been the best summer for 20 years, and I can honestly say I remember very few rainy days there. Most of the time of course we stayed at Youth Hostels, Colleges closed for the holidays or small private hotels.

We travelled by train from Plumtree to Cape Town (3 days); by ship – the Edinburgh Castle – to Southampton (10 days) stopping off at Madeira, and returned by the same route. We first stayed for few days a little north of Brighton in an old RAF barracks called Royhill close to a tiny village (one street) called Blackboys. There were some woods close by with spring flowers (bluebells possibly) in abundance. A very pretty area.

From there we went to London and had a week of free time before our tour officially started. Most of us stayed in the Queensway area just off Bayswater Road. A lot of our spare time was spent at the Queens Ice Rink – a brand new experience for most of us; or going off to the Battersea Park fair grounds – and I recall a few of us missed the last tube and walked all the way back late one night; or the illicit visit to the Windmill Theatre where the nudes stood (by law) as statues, and of course, Soho. I also went down to Dover by myself for 3 days or so to visit family there.

I was later amazed at the freedom we had had, and, as a rural 15-year-old Rhodesian boy, how I managed to get around on my own so well with no fear at all. I would certainly be very reticent to allow my 15-year-old son to do the same these days !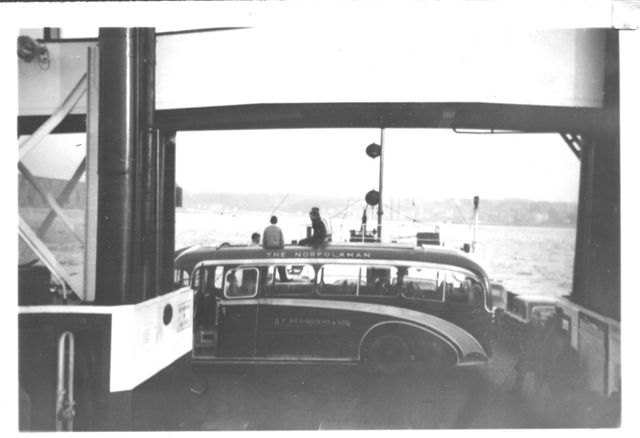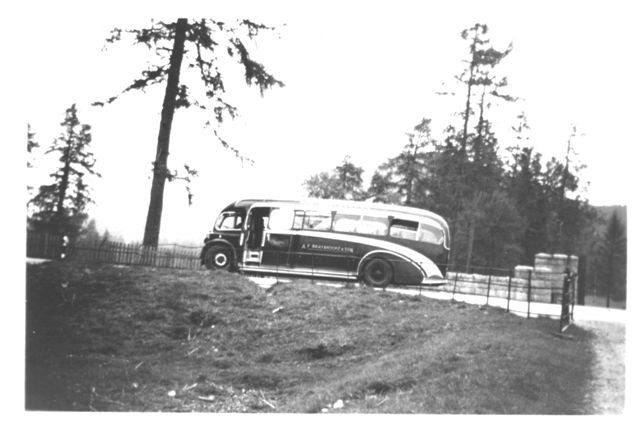 On the Forth of Firth Ferry and the bus runs out of petrol ! (What an amazing old vehicle !)

Once we were officially on tour, we saw all the tourist sites in and around London – Tussaud's, the Tower, the Kensington Museums, Windsor Castle etc. Then, by bus north, via York, to Edinburgh (a couple of days), Balmoral and Braemar Castle, the lochs (including Loch Lomond), around to Glasgow, then back south to Ruthin, in north Wales, where some ladies dressed all in black with high conical "witches" hats spoke Gaelic. On to Shakespeare and Stratford-upon-Avon, then Oxford, and back to London to catch our breath before going across to Europe.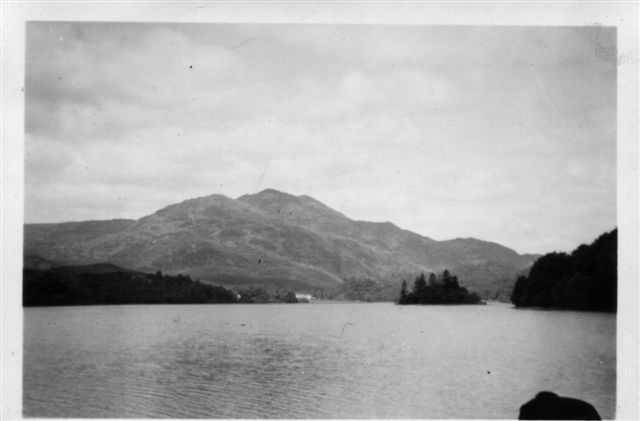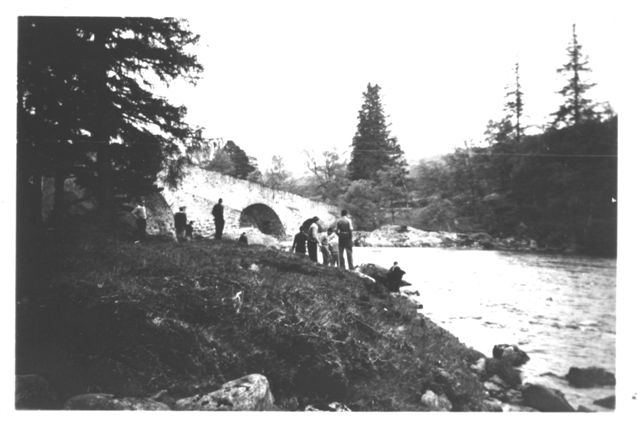 Loch Lamond, Scotland and walking by a Scottish stream

On the ferry to Ostend, Holland and Amsterdam, the Hague, and the dikes etc. Next was Brussels, then on to Germany where we stayed in Cologne and even had a swim in the Rhine - which is quite a fast flowing river! We then had a day boat trip on the Rhine, then back onto the bus through to Heidelberg, Munich and onto Innsbruck in Austria. I can't remember whether it was in Austria or Switzerland that we took a cable car up the mountain to the snow line – also a new experience for many who had never seen snow! We visited a large glacial lake – Archensee – where a couple of guys tried swimming, but was that water ever cold !! We also stayed in a small village called Mayrhofen, which had a fairly international college of languages and music – I'm not sure on the latter. Bruce Sutherland, myself and the bus driver stayed at the local mattress maker's home across the road from the "nightclub" - which was noisy, smoky and a lot of fun although we weren't meant to be there ! Twenty years later, a friend I visited and I was amazed to find a very active ski resort.

On to Italy over the Brenner Pass, down the west side of Lake Garda – where the Germans stored ammunitions in the tunnels during the war (II that is!). We swam in the crystal clear water of the lake. We passed fields and fields of strawberries and cherry orchards and the fruit sold for a song in great big paper "cones". Then on to Venice, with the Lido, glass blowing and St Marks Square. It was truly a smelly city where the canals were effectively the sewage system – since improved I believe! Then through Milan and St Bernard's Pass to Switzerland. We visited Geneva and Montreux and left for France via Basel, I think. We shot through France and stayed in Paris for a few days and saw all the usual tourist sites. We stayed at the College de France I think it was – closed for the holidays, but open to scholars touring - on the Boulevard St Michel, literally a stone's throw from the Notre Dame. I managed to get into Les Naturiste and others, I believe, got into the Moulin Rouge – the French were a lot more liberal than the English in this respect.

Back to London and more free time. As I said, my parents were there, so I joined them and we did the "family" tour bit before rejoining the gang and back home. There will of course be several different perspectives depending on the "clique", but in general, even though I may have got a few things wrong (my memory is not what it should be!) - that was the overall tour, and one has to take one's hat off to the teachers who took us round, it was magnificent.
Back to Historical List Home E-Mail

Last Updated : December 09, 2002