Plumtree School - Old Prunitians

Articles about Martin Olds' murder :
The Electronic Telegraph Wednesday April 19, 2000
By David Blair at Compensation Farm, Matabeleland
A SCORCHED and bullet-scarred farmhouse showed the struggle mounted by a white Zimbabwean farmer during a two-hour siege yesterday before he was killed by 70 armed attackers.
Martin Olds, 43, died after gunmen launched a dawn raid on his home at Compensation Farm in Matabeleland, 400 miles south-west of the capital, Harare. He was repeatedly wounded during a gun battle that left his right leg shattered. However, he continued to fight his assailants and wounded two before succumbing.
Mr Olds' death came barely a day after President Robert Mugabe assured the Commercial Farmers' Union that the crisis, which has seen squatters occupy more than 1,000 farms, would soon be over. The tragedy also followed the murder on Saturday of David Stevens, another white farmer.
Four people were being questioned in connection with the murder of Mr Olds, Chief Supt Wayne Bvudzijena said last night, although no arrests had been made. Local farmers said Mr Olds had been a target for murder by fanatical supporters of Mr Mugabe who were brought by bus to the area.
Mr Olds told a neighbouring farmer during a desperate radio conversation at about 6am: "I've been shot and I need an ambulance". His attackers had arrived about 30 minutes earlier with automatic weapons. They burst through his security fence to surround the house. A local farmer said: "He had already said, 'If anyone comes on my property I will shoot them'."
Mr Olds defended himself with a shotgun and a hunting rifle. His right leg was broken but he made his own splints and continued to fight back. As the alarm was raised, nearby farmers tried to establish the situation. Guy Parkin, 20, approached the farmhouse at 6.45am. He said: "When I got there, there were lots of cars outside his gate. When I asked one of the war veterans what was going on, a shot was fired over me."
Mr Parkin, fearing for his life, hastily retreated. He said most of the attackers were drunk and waving empty beer bottles. About 45 minutes later, Mr Olds was dead. Craig Wood, a local farmer, saw his body and said he had been "severely beaten". Police did not appear until 9.30am, when the attackers immediately fled.
Mr Olds was described as a character who might have become a target because of his fiery temper. Wally Herbst, another farmer, said: "He was a very strong-willed man who knew right from wrong. That was probably why they went for him. Much as we mourn Martin's death, we are afraid of the situation now, especially as these guys seem to be armed."
David Coltart, legal secretary for the opposition Movement for Democratic Change and a prominent lawyer in Matabeleland, said the attack was organised by Comrade Jesus, a notorious leader of farm invasions who had been brought into the area. Most of the assailants were from the majority Shona tribe.
The local people are Ndebele speakers with a deep loathing for Mr Mugabe's government. Local farmers suspect that shock troops of the ruling Zanu-PF party are being brought into the area to cause renewed unrest. Mr Olds was alone in the farmhouse when he was attacked, but he leaves a widow, and two children, Angus, 14, and Martine, 17. Kathy Olds, who was disabled by childhood polio, had been looking forward to their 25th wedding anniversary.
She described her husband as "a rock, a moral man of very high principles". She said he had no idea why he had been made a target. Mrs Olds was first told that her husband had been injured and that his assailants had thrown a cordon of roadblocks around the house to stop an ambulance from reaching him.
With his telephone and radio disabled by the attackers, Mr Olds was left alone to face his death. He fought with the elite Grey Scouts during the bush war of the Seventies and was well equipped to defend himself. His armoury consisted of a hunting rifle, a shotgun, a 9mm handgun and a Magnum revolver.
An ambulance treated two of his assailants for shotgun wounds to the legs and the crew confirmed that their patients were from the Shona tribe. Mr Olds farmed cattle on 12,000 acres in the Matabeleland. The farming community is in shock but many are determined to stay. Craig Wood said: "We can't give up. There's no way I can go. I've never been out of Africa."
Matabeleland has seen few farm invasions since the crisis began in February. Farmers are shattered that one of their number could have been targeted for murder. Mr Herbst said: "These guys were on a mission. They picked on him to provoke a reaction and get a result - perhaps to get the president to declare a state of emergency."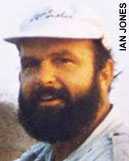 Martin Olds

The Electronic Telegraph Sunday April 23, 2000
By Ian Cobain in Bulawayo
THE beleaguered white community of Zimbabwe turned out in force yesterday for the funeral of Martin Olds, the farmer murdered last week, and heard the minister condemn President Robert Mugabe as evil, corrupt and a criminal.
In a powerful address that brought gasps from many of the mourners, the Rev Paul Andrianatos compared the president and his regime to the Nazis. He said: "There will be no fancy jets and no red carpets for them in heaven". Mr Andrianatos even declared that a vote for the ruling Zanu-PF party in next month's parliamentary elections "would be a vote for the devil".
Mr Olds's widow Cathy, who has been disabled by polio and walked with crutches, held her head in her hands during the minister's address. His daughter Martine, 17, wept, while his son Angus, 14, simply looked bewildered.
More than 400 mourners crammed into the modern Presbyterian church of St Andrew's in the smart Bulawayo suburb of Hillside for the funeral of the farmer, murdered during a three-hour gun battle with squatters when they invaded his farm north of the city last Tuesday. Several hundred more milled around outside, unable to find even standing room.
They were a cross-section of white Zimbabwe: elderly farmers rubbed shoulders with urban professionals and teenage students. Some had driven through the night from the capital, Harare, more than 200 miles away. Less than a dozen of the mourners were black.
There were hymns, prayers and tears, but few suits or back dresses, and even fewer black ties. Many people came to pay their last respects in dusty boots and khaki shirts, the clothes they had been wearing when they hurriedly abandoned their homes as the country slid deeper into anarchy last week. Even the dead man had been dressed in a safari suit.
Many of the mourners, numb with fear and exhaustion after weeks of land invasions, murders, rapes and beatings by the Zanu-organised veterans, were astonished that he should deliver such a courageous and forthright address.
Others said afterwards that they feared his words could bring even more of Mugabe's wrath crashing down upon their heads. Mr Andrianatos told them that Mugabe's actions could destabilise the entire region. He said: "Is the president pouring oil on troubled waters, or is he putting a flame to the oil? He puts himself alongside criminals. He is indeed a criminal."
Echoing the words used by the president when attacking white farmers on the 20th anniversary of majority rule, he added of Mugabe: "He is the enemy of the state." Comparing the crisis in Zimbabwe to the early years of Hitler's rule, when the Nazis persecuted and imprisoned first communists, then Jews, then Catholics and trade unionists, he said: "First it was homosexuals, then white farmers, followed by other whites - then Indians, then coloureds, then the Ndbele."
He asked the mourners to pray for the police, "that they might put the vows they have taken into action", and for the country's corrupt and power-seeking leadership, "that they might realise they are public servants". He also implored the people of Zimbabwe to "take a stand" against the growing tyranny. "Martin Olds took his stand, he stood up for his principles. If you do not stand up for principles you will fall for anything."
Mr Olds had evacuated his family to Bulawayo after being warned that he was a likely target for a gang of between 100 and 300 supposed war veterans who had been bused into Matabeleland. He was known to be a tough character – his farming neighbours say "respected" - who served in the feared Grey Scouts, a mounted reconnaissance unit, during the Rhodesian army's war against black guerrillas.
He had been in trouble in the past for shooting at poachers, and warned police he would do the same to any would-be squatters. Furthermore, he was deeply unpopular with many local black people.
The police refused to lift a finger when his home was attacked shortly before dawn by up to 150 gunmen, who were riding in a convoy of new cars and pick-up trucks and armed with AK47 assault rifles. Instead the officers set up a road block and prevented other farmers from coming to his aid.
Mr Olds tried to fight it out with a shotgun and a magnum pistol. When he telephoned his mother and said he had been shot in the leg, the police also held up the ambulance. He fled through the back door after petrol bombs were thrown through the windows, and was shot in his other leg, beaten and then shot in the head.
Many of his neighbours were impressed by Mr Andrianatos's attack on Mr Mugabe. Peter Rosenfels said after the funeral: "We are losing everything that we have struggled so long to build and have been turned into refugees. Why? Because of the colour of our skin." Another mourner, Henning Stratham, said: "We came to bury a friend, not to hear a political speech. This can only cause more trouble."
Asked whether he feared for his own safety, Mr Andrianatos, a 43-year-old white South African, said: "I never really gave any thought to possible repercussions. I just thought about what had to be said, and then said it."