Plumtree School - Old Prunitians

Information kindly supplied by Jill Baker, grand-daughter of Bob Hammond. Details excerpted from her book Beloved African the memoirs of her father, John Hammond.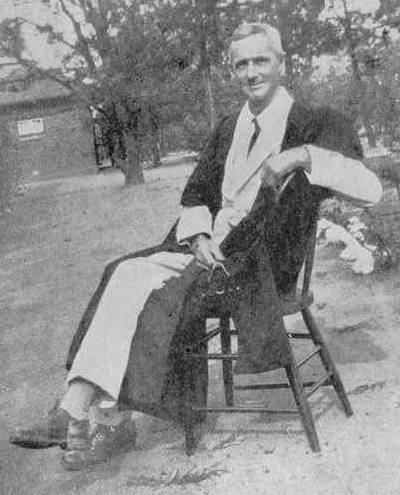 Robert (Bob) W. HAMMOND, HEADMASTER 1906-1936
Bob Hammond, or "Tambo" as he was affectionately known, went on to become a legend in Rhodesia instilling the best of British education and moral rectitude into his pupils in this far flung and remote corner of Empire.

Bob was born in Liverpool in 1876 and brought up in Toxteth at the time his father was working with the ragged schools. He was educated at Liverpool College and then went up to Peterhouse at Cambridge to take his degree in ethics and philosophy.

After that, he spent some time tutoring the son of the renowned artist, Val Prinsep, in Pevensey at the same time as his best friend Keigwin was tutoring Osbert Sitwell. Anthony Prinsep subsequently became John's godfather, giving him a beautiful silver rose bowl at his christening. Prinsep was well off and well known and owned a couple of West End theatres. John met him only once when he was asked along to a "very posh" restaurant. He didn't remember much about the meal or the man – except that he tipped the waiter enough to feed the then undergraduate, John, for at least a week… but didn't give his godson a penny.

However, they did discuss Bob of course, and Prinsep said he clearly remembered, as a very young boy, seeing him with two others, having just been recruited into the Imperial Yeomanry, preparing to go out to the Boer War. The family never heard much about his war, but at one stage Bob was taken prisoner. As the Boers could not feed them all, 800 of them were released with a few bags of boermeal and told that if they were seen in the next 24 hours they would be shot.

Bob managed to meet up with English troops despite a fairly severe wound to the right arm and hand. The rest of his life was spent coping with indigestion as a result of the undiluted boermeal and doing most things left-handed.

After the war, Bob returned to England, taught at schools in Eastbourne and Hull and while in lodgings in London, met a determined wee Scots lass, not quite five foot tall, Harriet MacEacharn. From his academic and rather serious perspective, he quickly fell in love with an absolutely irrepressible sense of humour, a bright and lively mind and a very considerable musical ability.

Harriet MacEacharn had led a very genteel life – with the exception of the last few years. Her father was part of a large Scottish family, which hailed from the isle of Islay. The family boasted a direct line back to Flora McDonald, the lass who helped Bonnie Prince Charlie escape by rowing him across a loch. The "dark" side of the family history was the infamous and rascally Black Baron of Kilravock.

Bob Hammond became one of Harrie's boarders at the time he was tutoring the Prinsep boys. He was seven years her junior and it was an immediate attraction of opposites. The tall, gentle, aesthetic and academic young Englishman and the irrepressible, artistic and tiny wee Scot. Their courtship continued for a couple of years, during which Bob went off to the Boer War. She wrote at the end of 1900:

My own precious darling boy, I was so glad to have a long letter from you last week and the photo, which is simply splendid. Of course it is a wee bit dark but you do look nice. I haven't seen anyone half so nice since you went away. I am so thankful to know that you are safe where you are tho' I cant help being just a wee bit anxious…

Then just before Christmas of the same year, she wrote:

It is hateful to think of Xmas being so near and that I shall have to spend it without you. I wonder why there was no letter from you last week. I wish I could keep from feeling anxious and miserable when I don't hear from you as I know it isn't always possible for you to write – indeed it is quite wonderful how you have managed to do so… (Bother! Here's that Frenchman coming upstairs to give Madeline a lesson and her ladyship has forgotten all about him and gone out to dinner).

Harrie's strength and character is clearly reflected even in these short sentences and Bob was blissfully devoted to her from the time they met. When at one stage, he plucked up the courage to send Harrie a cable saying he had received a job offer in South America. Her rapid reply read: "Choose South America or me!"

When the next offer came to live in Africa – and as Harrie had always nurtured a vision of herself careering wild and free on horseback over the plains of Africa – she accepted gracefully.

Bob's father married them in St. Swithin's Church, South Hampstead in 1902 and Bob left for Africa six weeks later. Their marriage and partnership became one of the foundation stones of European education in the new country of Rhodesia.

A new life in Africa

Harrie joined Bob in South Africa in 1903. He had a job as a schoolmaster and was the local magistrate in Amsterdam in the Eastern Transvaal. Two years later, his friend from university days, H. S. Keigwin, recommended him for the headmastership of Plumtree at 300 pounds a year, plus board and lodging. It was 100 pounds a year less than he had received at Amsterdam – but it held such a huge challenge ! As such, it was irresistible.

In 1904, Harrie at the age of 38 had given birth to their first child, Ian, always known as Skinny, followed by young Bob two years later… precisely six weeks before they left for the long trip up to Plumtree. It was a brave move for a woman who had not been in the country long, who was now over 40 and who had two very small children.

They were at least able by that stage, to travel by train rather than the more usual and much slower ox wagon. But even this was an exhausting, dusty trip. The line had not yet been metalled, so the engine would stir up a cloud of dust, which would envelop the rest of the train as it went round corners. Even with temperatures well into the 100s windows and doors had to be closed to contain at least some of the dust.

History does not recall what her reaction was to seeing Plumtree in 1906 – but she must have been horrified. Whatever she felt at first, she set about her first priority, which was simply carving the family a comfortable and livable home in the original old thatched pole and dagga huts. She then went on to become the heart of the school's music, theatre and hospitality.

Once Harrie arrived, the village had not only a pianist but also, its first piano. She had brought over a little Collard and Collard from England and every time the family went to the farm, the first thing that was loaded onto the ox wagon, was the piano. She played by ear and she played all the time. She only had to listen to something once and she could sit down and play it and transpose it up or down at sight, as required.

Bright, rotund and no nonsense, Harrie, was the perfect foil to Bob – she was the yeast to the dough, the sparkle in the wine. She knew just how to pop in the apt and realistic remark that would make Bob's dreams achievable. They were closely integrated with the school so that home and school became completely intertwined.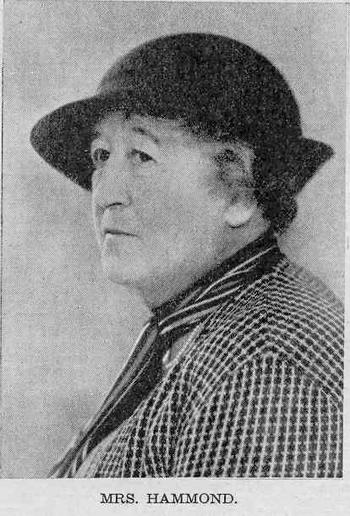 She remained loyally Scottish to the end. John recalled with great love: 'She was a remarkable woman… widely read – musically very well educated – with a great sense of humour and an abundance of love and affection.'

She was the ideal mother for a family of five – or, as was more usual, 50. The huts simply expanded to meet whatever was asked of them, whenever Harrie was around. From this outpost of empire, she was the one who negotiated the rights to perform an annual Gilbert and Sullivan production using the boys and staff of the school and also produced and accompanied the first production in 1912 of The Mikado.

Plumtree's Gilbert and Sullivan productions were at that time amongst very few amateur productions in the world permitted to be performed outside London. The tradition continues today.

When he started at Plumtree, Bob Hammond had a very difficult job and recent archives endorse just how hard it was – especially for someone with the ideals he held for the young of the new country. He was a highly self-disciplined man; self controlled, passionately fond of the school and devoted to his family. He was also supremely idealistic, a great thinker and hard taskmaster. Reveille was blown at 5.30 a.m. each morning with inspection and duties starting straight away. Bob was determined to produce well-rounded boys of character, high moral fibre and resourcefulness.

He was a great believer in his boys finding out about Native customs and cultures, the bush, farming and nature study at first hand. He also believed all boys should do manual work and they soon built the school's first playing and rugger fields in this way. He insisted that every one had to find their own strength, whether it was taking part in sport, in the highest academic practices, cadets, learning bridge and chess, debating and drama societies, the annual Gilbert and Sullivans or other theatrical productions.

Within his first 18 months, Bob Hammond formed a Cadet Corps, laid the sports fields, inaugurated the first school sports, speech and prize giving days, started up debating and literary societies and had many new buildings either planned or in the process of being built.

Bob was also prepared, in the interests of the boys' development, to take the risk of allowing them a tremendous amount of freedom to go out into the bush – it was never abused in the 30 years he was at Plumtree. They were encouraged to go out and fend for themselves at weekends – entirely reliant on their own initiative and resources. They had to let the school know where they were going and there were heavy penalties if that was not adhered to. The only other stipulation was that younger boys had to go with older boys who were responsible for their welfare and there were some protocols about when they were considered able to "head up" a group.

Before these bush trips, the schoolboys would do extra work in the garden or on the new playing fields in order to earn salt. The Natives didn't like or trust money at that stage… but salt would buy the boys almost anything they needed from the Natives.

Plumtree boys grew up speaking the language like the natives – they learned to track animals and they understood the traditions and respects expected of them when they entered the villages. The Natives were quite interested in this school business but it made no sense to them at that stage when young boys were of far greater value being trained as hunters and herdsmen of their cattle.

From the early Hammond days, Plumtree produced by far the greatest number of Europeans in the country, who later went on to work directly with the Natives, in education or as Native and District commissioners.

In the first and second decades of the century, provisioning a growing school so far away from a centre of civilisation was extremely difficult. Masters and boys had, not only to grow all their own foodstuffs, but in the early years to kill for meat for the pot, as rinderpest was prevalent and cattle still died. To provide the food for the school, as numbers grew, so far from anywhere, the headmaster also had to become a farmer.

Bob bought a farm, Bush Hill, which was half a day's ox wagon ride away, as a means of growing crops and, once the threat of rinderpest had passed, of raising cattle. But it also became a great holiday home and every school holiday was spent down at the farm – saving the family the cost of going off on holidays elsewhere.

In later years, Bob developed this further and bought in cattle and pigs, fattened them and slaughtered them for the school. In order to do so, he had to raise a personal mortgage on an extra piece of land. This became a great and troublesome financial burden to him for the rest of his life as a result of which he had enormous difficulties educating all his children beyond Plumtree and keeping up with the payments. Fortunately, most won useful bursaries or he would not have been able to educate them as he would have liked.

In his attempts to mould his charges to men of leadership, unafraid to face a challenge, Bob tried at one time, to change the school clocks to "Plumtree Time" – an hour ahead of others in order to make the most of the daylight hours. After a few months of complete confusion, he acknowledged defeat turned back the clocks and changed the hours of operation instead.

In 1912, the school acquired a carbide lighting system to give "real" lights to the chapel and schoolrooms while candles and paraffin lamps were still used in the dormitories. This new machine had to be pumped up at certain intervals and boys were designated to take responsibility for this vital role. The lights would grow dimmer – the hope and delighted anticipation of the children being that they would be plunged into darkness – before the boy on duty started pumping. During Evensong one Sunday, the lights dimmed alarmingly and Bob, in the full flow of his sermon, said very firmly in the middle of an important theological statement, and without interrupting the continuity in the slightest… 'Pump, boy, pump!'

In 1913, it was decided to close down the girls department of the school with the few girls going to a school in Marula, a village nearby. Plumtree began to establish a specific identity as a school that trained and equipped male leaders of the future.

By 1915, the school's reputation was such that it was growing at a great pace with children coming from all over Rhodesia and surrounding countries. As it grew, the problems caused simply by its isolation, grew in direct proportion.

Water had always been a problem, with tank deliveries awaited anxiously, baths were allowed to be only 1.5 inches deep with bath water used in turn for garden and fruit tree watering. The wells and tanks were under pressure and constantly running out of water. After desperate pleas to the education department, with no results or acknowledgment, a water tank once had to be hijacked from a passing train to keep the school going.

A desperate shortage of money was an ongoing concern – and with it the ability to attract good teachers to a perceived "uncivilised" part of the world, "with no guarantees of any continuous employment, no possibility of a pension and small opportunities of promotion"!

Things became particularly hard during the 1914-18 war as all his male staff joined up and it became very difficult to find suitable teachers. He had, to a large extent, to employ older retired men or women teachers who were not always the best at controlling wild young teenagers.

The famous benefactor, Alfred Beit died soon after Bob took over as headmaster. He had left 200,000 pounds in his will, for "educational, public and other charitable purposes". There was a scramble from assorted power brokers – all with different ideas as to how this was to be administered. Bob played a pivotal role in persuading the Trustees to assign a fund to be put aside purely for the development of badly needed school buildings and infrastructure throughout the country. This was later on to be useful for Plumtree itself, as the present buildings could not possibly cope with the anticipated increase in pupils.

One of the first pupils at Plumtree in the days when it took both boys and girls, Muriel Baraf (then Furse) told, in her book Recollections of Plumtree School, of her return to the school in 1934, to take over as Matron of Lloyd House, after a gap of 17 years.

She relates some wonderful anecdotes about the Hammonds and about the school itself. She writes :

My arrival in Plumtree as matron of Lloyd House… filled me with astonishment. When I last saw it, Plumtree was a dry, arid spot with a motley collection of buildings. Now, there were three houses for the boys, a dining hall with convenient catering department, a properly equipped hospital, bright airy classrooms, an administrative block, a fine Beit Hall with a stage and gallery, pleasant houses for the staff and studies for the boys; science and woodwork rooms, a well fitted-up laundry; three playing fields, several tennis courts, a squash court and a swimming pool, gardens, trees and lawns. These were the visible signs of an exceptional school, pioneered by a genius for making something out of nothing.

There was no water shortage now. Herbert Brooke, with a team of African workers was building the dam, which was named after him. The Hammonds now had a suitable Headmaster's house.

As an adult I came to know the Hammonds very well and felt part of the family. Things, which are now considered by many people as of prime importance, such as fashionable clothes and expensive, shiny cars, meant nothing at all to the Hammonds. They owned an ancient, derelict Ford and I think that every time I went with them in it something strange happened !

Mr. Hammond would always enjoy a joke against himself. One Sunday, during the evening service while he was giving his sermon, a "Christmas beetle" in a certain boy's pocket started singing. Mr. Hammond stopped and said, 'Will the boy who has a Christmas beetle kindly go out !' Whereupon the whole school stood up and trooped out of Chapel !

Mrs. Hammond was entirely without pretence; and position and worldly possessions meant little to her. 'Och! What does it matter!' she would say. As she grew older, she was given to little catnaps towards the end of the day. Bishop Paget had come to Plumtree and after dinner Mr. Hammond had work to do in his office and so left his wife to entertain the Bishop. As it was a hot evening, they took their chairs outside. When Mr. Hammond arrived an hour or so later, they were both fast asleep ! The Bishop said afterwards that it was one of the most pleasant evenings he had ever spent.

Mrs. Hammond never worried about her appearance and I doubt if she ever troubled to look in a mirror. For a special occasion, she was once known to put on her dress inside out. When someone drew her attention to the fact, she replied, 'Och, never mind. The next time I'll wear it the right way out and people will think it's a new frock!'


Very few people in Rhodesia were well off at the beginning of the 20th century and a country schoolmaster was poorly paid. Harrie had to use all her canny Scottish ways and upbringing to make the budget stretch sufficiently to feed the family.

John remembers his daily diet consisting in the main of mealie meal (ground corn – staple diet of the Africans) and maas (sour milk not unlike yoghurt), with chickens, game and the luxury of milk and cream when they went away for weekends and holidays on the farm. Harrie of course provided a daily ration of oatcakes and scones, steamed syrup puddings and pies – all good sound Scottish fare… in the heart of Africa. They didn't eat much in the way of fruit and vegetables – because there was insufficient water to grow them in Plumtree and they were so remote, that fresh produce went off before it even reached Plumtree. Oranges and naartjies (mandarins) were grown locally – but then people didn't seem to have fruit and vegetables as part of their diet to nearly the extent as they do now.

The boys all wore khaki shorts, shirts, pith helmets and no shoes – in fact John did not wear shoes as a regular thing until he was 13 or 14. It suited the practicality of life at Plumtree. Shoes were hard to get and they wore out too quickly in those harsh conditions. It was a lot healthier to go barefoot in that hot dry climate.

The boys at the school were always being encouraged to use their initiative and to be prepared to step in at the last moment, or follow up on ideas they had. John had just been made a prefect, when he approached his father once to ask whether they could have a common room.

'Yes. Good idea – what are you going to do about it?'

So John and his fellow prefects designed the common room, made the bricks, and built themselves a common room, parts of which still stand today following a succession of fires, usually started as a result of the licence granted to senior boys, to smoke.

In 1936, Bob and Harrie decided, following many agonising discussions, to leave Plumtree after 30 years at the helm. They knew it was time to move on, but they were both institutions of the school by now and it was a tremendous upheaval for them as well as for the people they would be leaving. Everyone tried to persuade them to stay "just a little longer…"

John went down to the annual sports day, held over Easter in 1936. For Bob and Harrie, it was to be the last of these memorable events and it became a formal valete to them both. Three hundred people attended from all over the country and in the time-honoured tradition, all the schoolboys gave up their beds and camped out in the grounds, while parents and VIPs slept in the dormitories. John wrote :

The weekend in many ways was rather trying, being the last Sports at which Dad and Mums will be there as the Head. There was much speechifying and several presentations from parents, old boys, school, staff, village and others. I shall send you a copy of the paper, which might prove of some interest to you.

The journey down on Thursday night was far from pleasant. The train was packed and we had five in our compartment giving us hardly any room to move. We got down about 11 o'clock, swam, played squash rackets and caught up with long lost friends.

On Saturday we had the first day of the sports in the afternoon and dinner in the Hall that evening, at which numerous and lengthy speeches were made preceding "The Gondoliers" put on by the school. It was well done, though the lengthy speeches had left the wee brats dressed up on their war paint for such a long time that they were dead tired when the show started.

On Sunday there were the normal Chapel services for Easter Sunday followed by a presentation by the Old Boys to Dad and Mums. They gave them a lovely suite of office furniture which, as the family have very little in that line of their own, will come in very useful. We followed this by a beer fight at which great quantities were swallowed and which put most of us into a state unfit for anything but sleep! In the evening, Dad gave an address to the school and spoke better than I have ever heard him (see Appendix 1). How they have managed to stop themselves breaking down is more than I can say as they are both feeling this departure very much. The Governor came down as a special effort as it was Dad's last… in the evening H.E. gave out prizes amid more speeches… all very moving.

One of the country's poets, George Miller wrote a poem entitled "After 30 years… RWH":
and so the last hymn fades, and in the quiet he turns and moves away; there's an end.
so is the last word written when the book is done, so the last rivet driven and made fast;
so, when the agony of hand and spirit's over, is the last stroke made and the wet brush laid by
and while each maker knows the sober joy that bathes the spirit when the task is ended
in such simplicity, his heirs unborn enter their heritage. So man grows rich.

I began to understand what made my John when I read some of the eulogies written by old boys and politicians, judges and priests. One of his staff, Arthur Cowling, wrote :

Hammond's main guiding principle was a belief in freedom for his boys in both thought and action; and he was always prepared to defend this principle, which was consistently pursued.

Boys were encouraged to take a close interest in and to discuss fully all current affairs, not excluding political elections and any other local controversial issues. He believed in taking a "Newspaper" period with every form in the school for such discussions, which constituted a valuable training in citizenship. And he fostered self-government and personal responsibility in every branch of school activity.

He delighted in argument and had the faculty of not allowing the strongest official disagreement with a master to affect personal relationship.

We might feel at times that discipline was too slack; particular instances would lead to an exchange of strong views, addressed officially; the correspondence would end with a note: Dear ……… come and talk this over on Sunday afternoon. The talk might go on from early afternoon till late evening, covering a walk of miles and one came away feeling that even if all one's arguments had not been adequately countered, one was assisting a sincere and lovable man in an interesting experiment, in which his view might after all be the right one.