Plumtree School - Old Prunitians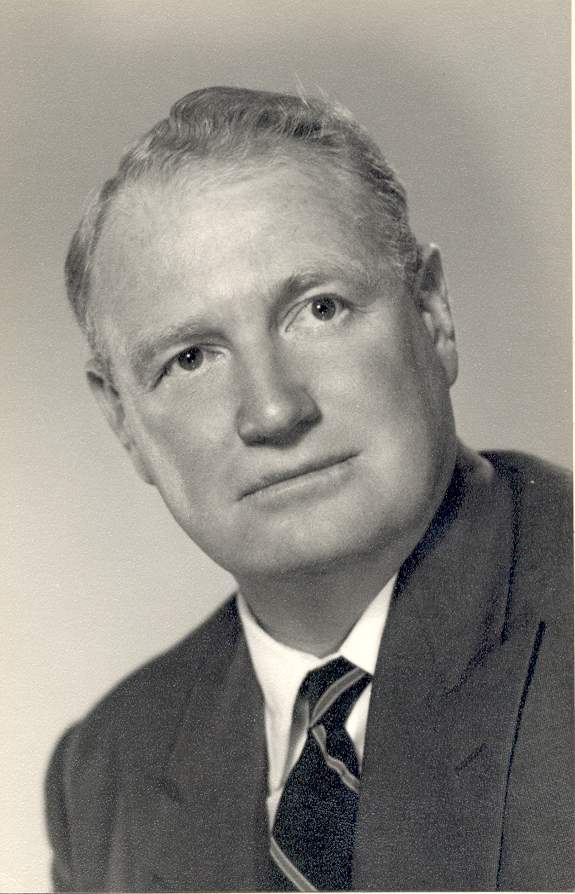 Gaul House 1958
CLIFFORD CHARLES COVENTRY - January 13, 1920 to July 16, 2002
submitted by his wife, Ida
Cliff was born in Ladysmith, Natal, into a farming family, and moved up to Rhodesia when 18 months old. He had two sisters, Vera and Eileen, and a brother, Ronald.

He attended Hartley Primary School, as a border, from the age of five. Returned home for weekends with his sister Vera and back to school on Monday mornings travelling on the donkey "milk" cart. Once, when trying to drive it himself, he turned it over. He expected to be punished but his parents were so relieved that no-one was hurt that no action was taken ! He won a Bursary (a Jewish donor) in his final year, which enabled him to attend Prince Edward School in Salisbury from 1931 to1935. His name is on the Honours Board and the Senior Beit Scholarship Board that hang in the school hall. He was also a Boy Scout.

He attended Rhodes University from 1936 to 1939 where he studied for a BSc and U.E.D. He played hockey for the First XI and his photograph is in the sports pavilion at Rhodes. The 1939 team, I think, still stands as the finest Rhodes Hockey Team of all time, so many colour blazers. He also played for Eastern Province. He had hoped to get a Rhodes Scholarship but the outbreak of World War II put an end to this. He returned to Rhodesia, joined the Government, and then became enlisted.

1940 to 1945 - After his initial training in Salisbury he was sent to India to join The Royal Buckinghamshire Yeomanry and most of their service was in Burma. He became an Officer. He wore his medals this year (2002) on Anzac Day to attend a march past of Rhodesian ex soldiers, carrying the Rhodesian Flag. Awesome.

On returning to Rhodesia he was sent to Chaplin School for a term to settle back and then posted to Plumtree where he worked from 1946 to 1957. He taught Maths, which he revelled in, as do his children, and a little physics which he thoroughly disliked. He became a master in Milner House under Charles Barrett whom we kept in touch with throughout the years. Clifford became Head of Gaul House, I think, from 1952 to1957.

With the help of the Gaul House Boys (many impot hours included) and an old Ford T lorry that his father had given him, he landscaped and built the Gaul House Garden (see photos below). It was good to see it in the 1990`s and enjoy tea under the Palms but the beautiful water pond had gone. He spent much time advising the groundsman about the playing fields, particularly the wickets and was involved in the construction of the reservoir to supply additional water for the fields.

Clifford use to enjoy using his old ford lorry to take interested school boys out into the surrounding reserves for the shooting of duck or fishing over the long weekends when many boys weren't able to travel home, especially those from Mashonaland. These outings were followed by enormous meals in the housemaster's quarters !

His great love was sport and at one time he was coaching 1st team cricket, hockey and rugby all in the same year. He produced some outstanding cricket players - Tony and Dave Pithey, Don Arnott, Richard Napier (Plumtree's best cricket team ); also hockey players, Hilton Morgan, Dave Murray and others. Several of these boys went on to play for Rhodesia and South Africa and we are still in touch with them. While coaching teams he was playing hockey for, and captaining, Rhodesia and became a Springbok and played for South Africa. Clifford once worked out the approximate number of hours he had spent coaching cricket and it came to 7 to 8 months, day and night ! He, mostly, thoroughly enjoyed it.

1947, as head of the "Moths" he had the privilege of meeting the Royal Family on Plumtree Station as the White Train was passing through on its way to South Africa. King George VI, Queen Elizabeth (the Queen Mum) and the Princesses Elizabeth and Margaret, and then introducing them to the returned soldiers.

1954 - Clifford enjoyed taking films with a 8mm camera. He and Joe Lunn, director, made a 8mm film for a film contest, involving all the boys, the staff and their wives and the local farmers and their horses, called "Border Bandits." It did not win a prize but gave untold happiness and adventure to all involved building up lasting friendships and raised money for school funds. Its last showing was at Plumtree in the 1990`s when Mike Whiley was head. Clifford made several trips across to the Makurikuri Salt Pans in Bechuanaland and up to the Kafue with lorry loads of boys and members of staff and always took his camera.

1955 - He and Edgar Ratcliffe-Smith took a party of 28 school boys overseas. They toured Britain and the continent and were away three months. Before leaving Clifford assessed what he thought the absence of tuition on the the public exam candidates' results would be. He didn't think much, and gratefully he was right. He taught Maths lessons on the boat ! This was a Historic Tour and a film of it has now been put on video, losing some quality.

1955 - Clifford, the well known bachelor, married Ida Overall, a teacher from Fort Victoria. Coney Fleming (Ida`s headmaster) and wife Ellie, and Pat Pattison (Clifford's headmaster) and wife Vange, had quietly arranged two years previously for them to meet ! For his cunning, Coney was made Godfather to their first child, Jennifer, and Ida is in touch with Ellie who is now 91.They had four children - two boys and two girls but sadly their first son, Anthony John, named after two of his Plumtree School cricket captains, died of cancer when two years old.

1959 to 1967 Deputy Head Master, Chaplin School Gwelo. Continued teaching Maths, organising fields and coaching hockey. Started The Midlands` School Exploration Society and took boys out once a year in the August holidays. Helped start The Gwelo Cancer Association and became its secretary. Became Chairman of the Rhodesian Hockey Umpires Association. After acting Head several times and being given the chance to take early retirement, Clifford decided he'd like to go farming. He was fortunate enough to be able to purchase part of a farm belonging to an ex- Plumtree parent in the Eastern Highlands.
1968 to 1972 - Umtali Boys High School - Clifford taught here for five years, mostly under Coney Fleming, while he was developing his fruit farm, "Coolridge" over most of the weekends except when he had hockey ! Moved permanently to Coolridge in 1973. He was a successful farmer despite the war of Independence and lived a full, hard working but satisfying life. He joined the Lions Club of Inyanga and held the office of President during which time the club was awarded two cups at the International Convention for the first time. He also spent several years on the Nyanga Rural Council, becoming i/c roads.

Twenty years later the farm had expanded beyond recognition and it began to get too much for Clifford. He considered selling but Peter, his son and family came up from South Africa to work for Clifford. Drought and hail took it's toll as did Govt Policy so other means had to be sought. A tourist project - "Nyamazi Falls Chalets" - was started, looking out over a 200m waterfall surrounded by Masasa trees - quite beautiful. Unfortunately things country-wise went from bad to worse and when we were able to find a buyer our only option was to sell. Within six weeks we left Zimbabwe to make our home in Auckland with Jennifer, our eldest daughter, who is a teacher and who had come to New Zealand two years previously with her three daughters -Sarah, Tamlyn and Kirsten. Peter, Carole and their two boys, Anthony and Jason, are also in New Zealand. Peter pastors a small church in Otorohanga. Our youngest daughter, Verity Joy, is married to a Canadian, Steve Benner, and they have a daughter Victoria and live in Toronto. We were blessed by all being together earlier this year for a month.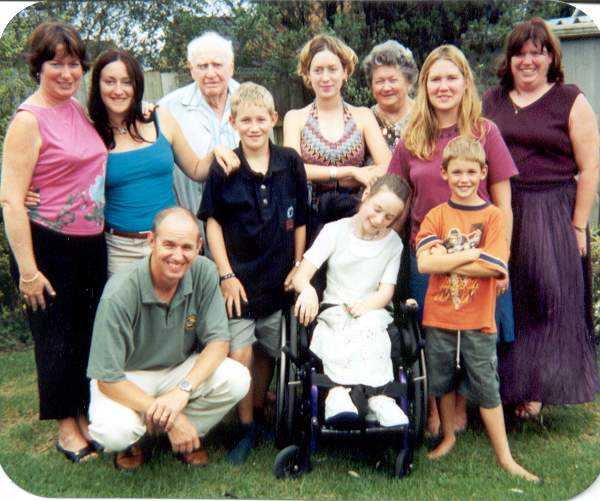 Clifford was well, always finding something to keep him occupied and he loved New Zealand. Once he made his mind up about something he never looked back. Enjoyed reading till the last and books in NZ are plentiful. Having had two major operations for blood clots in the legs in 95/96 he was on "wafrin" a blood thinner. A massive brain hemorrhage took him very unexpectedly, and we are grateful he did not suffer. A plaque that was on the box of ashes reads "Clifford Charles Coventry - Our Beloved Husband, Father, Grandfather and Friend - Our Rock. The end to a Glorious new Beginning". This is being sent back to Juliasdale where it will be put on the wall in The Church of The Good Samaritan - a church that holds precious memories for us as a family. During the Christmas holidays as a family we intend taking his ashes to a little coastal town he liked and let the tide take them out. He loved the sea and the fishing. We know he is with the Lord he grew to love and depend on for so much and we know we shall all meet again.

Some excerpts from letters we have received :
NEVILLE LEE (O.P.) He certainly deserves to be remembered as one of the many great masters the school was fortunate enough to attract who gave long and outstanding service inside and outside the classroom.

BASIL WAKEFIELD (O.P.) I always had the greatest respect for him and in later years became close friends.

PAT WEST (Plumtree parent, now in England.) Our special friend for so many years and know that he will be remembered in our caring hearts. All our family are eternally grateful to Clifford "Voc" for the guidance, caring, tolerance and understanding - they could not have wished for a better teacher with the standard he set, which gave them all a wonderful start in life. We were privileged to call him "dear friend"
DR COLIN SAUNDERS (O.P.) Clifford was a wonderful man, and he touched the lives of so many young people in this beautiful country. He certainly had a profound influence on me personally. As a hockey Springbok and Captain of the Rhodesian team and it was quite remarkable that he should have reached those heights from a lonely rural base out in the Bundu. He was a hero to me. He taught me how to play the game when I was at Plumtree and of course he inculcated in all of us the spirit of true sportsmanship - as a teacher he was exceptional as he had the ability to make real friends from amongst his pupils, without ever losing their respect (or in fact the awe in which he was held )
BRIEN ROOKEN-SMITH (O.P.) There are many O.P.s who remember Cliff with great affection as he virtually took over the sports load at Plumtree School from Coney Fleming. Then too, he excelled in becoming possibly the only Plumtree master to achieve Springbok colours in any sport and his was of course hockey.
SYD WHEELER (Old Chaplinite) - Those of us he taught remember him with fondness - we called him "Voc"
MIKE RUSHWORTH.(O.P.) Clifford will be remembered by many Plumtree boys with great fondness and respect for the wonderful Maths teacher and sports coach that he was. We thank the Lord for the privilege of being touched by Cliff's life
ROSS FULLER (O.P.) Clifford's death is the passing of a great man who was loved and respected by so many people throughout the world - and I say that because was influential in the lives of so many school children who are grown up and are settled throughout the world.

TONY PITHEY (O.P.) I see a lot of DAVE MURRAY (O.P.) and we have often spoken about Cliff and the impact he made on our lives during our formative years at Plumtree. There is no doubt that of all the teachers Cliff stood out because of the interest he took in one's development. I remember how he was determined that I should get through Maths and to this end he used to give me Maths lessons (free of charge ) during the afternoons just before Cambridge S.C. examinations. I appreciate the memories of an outstanding person who was a positive influence on all of us who were privileged to know him.

ALAN HOWARD (Gaul 1952-1958) - I was saddened to here that Cliff Coventry had died. Teachers, particularly the popular ones, I think, are a lot like one's parents in a way; one expects them to go on forever ! You remember them the way they were when you were at school. Cliff was an enthusiastic maths teacher to say the least. In fact pretty well everything he did seemed to be done with great enthusiasm. He coached hockey, a game I thoroughly enjoyed, but which at Plumtree you had to show considerable skill early on, because, with only one hockey field at the time, there were limited positions available. He told us one story against himself – and he was rarely caught out – about the time he came into the classroom to see someone's hat on the floor (we wore them all the time in those days !), and with a deft kick it landed on top of the stationary cupboard opposite the door. Cheers from the class of course ! The next day, there the hat was again. However, he thought there might be something solid under it and decided to kick "high" so to speak. The brick was end up and not flat as he suspected and kicking "high" didn't help! Again, cheers from the class, but this time because they were one up ! Gaul had an uninteresting front "garden" which sloped and the flowerbeds were "dry". So with his usual enthusiasm he was responsible for many hours of impot labour collecting soil, rocks and cattle manure in the most dilapidated open-backed truck you can imagine, and of course once the grass took off, the hours of weeding; getting the grounds landscaped just before the Sports weekend of '54 I think it was. Though I say so myself, we all did a pretty good job, fish pond and all ! He was strict but fair and could give deadly accurate "mean" cuts for transgressions. I wonder if the "punishment" record book is still up to date – my name featured frequently ! Apart from the afore mentioned truck which was also used to transport boys and camping gear over the Rhodes & Founders long weekend, he had a Citroen in which some lucky guys were invited to go along on the occasional duck shooting trip to a local dam. I never knew how successful they were, but they always enjoyed the trips. He was a little different from the standard. I liked him.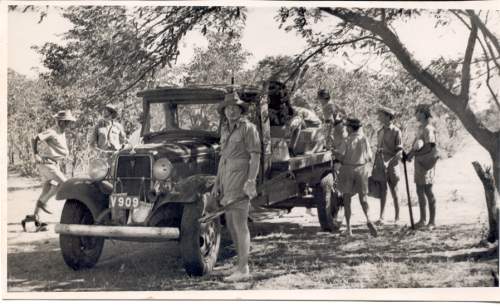 Easter 1950 - taking boys to Hully's Dam in the Model T Ford lorry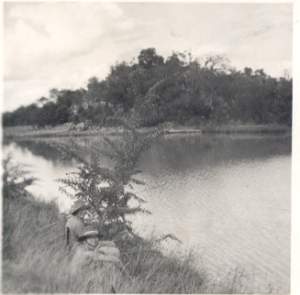 Easter 1950 at Hully's Dam - Cliff Coventry and Dave Napier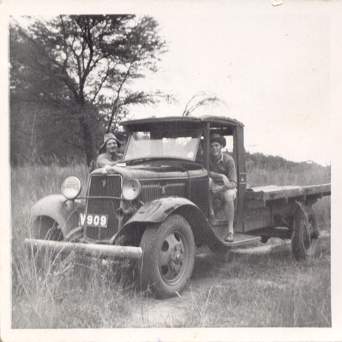 Easter 1950 - Cliff Coventry and Tony Pithey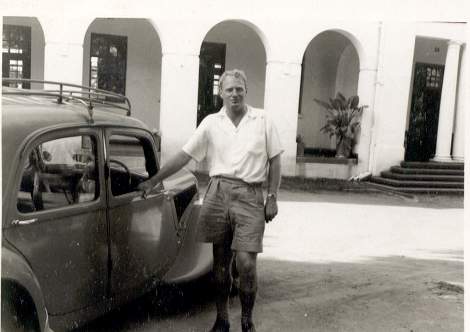 1952 - Cliff Coventry in front of Gaul House with his new Citroen