Plumtree School - Old Prunitians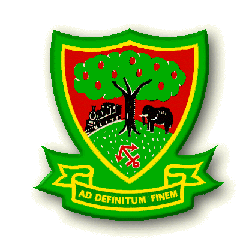 Thanks to Rob Matthews for the crest image. Click HERE for information about the crest.

The purpose of this web page is to share information about this famous establishment and those who have passed through its gates.
For current information about the school, including fees and applications please visit the Plumtree School web site.
---
*** August 2005 - My apologies to everyone for the lack of update on this site in a long time. Work commitments have been very heavy and we have continued to deal with the loss of our 21-year old son, Simon, who passed away in September 2004.

Thanks to everyone for submitting information and photographs. I will continue doing updates as soon as I can. Cheers, Gordon
---
We regret to advise of the passing of Sim (Simon) Maberly (Lloyd) who was killed in a car accident near Karoi on Wednesday August 17, 2005. A Memorial Service will be held at 9.00am on Wednesday 24th August at Northside Community Church, 8 Edinburgh Rd, Borrowdale, opposite Sam Levy's Village, Harare. The service will be followed by a wake at 176 Carrick Creagh Rd, Helensvale. Condolences to the family can be sent to his brother James Maberly <jamab@tiscali.co.uk>
We also regret to advise of the passing of Peter Robinson, long time Housemaster of Grey House, on May 16, 2005. He had been fighting cancer for some time and was doing well. Went to UK at the beginning of May to visit family and had a relapse. If anyone has more detailed information - biography and photos - to add to the site, please let me have them.


---
Old Prunitian and Staff Database - enter your details and see who is listed
Biographies, Obituaries, OPs in the News
Roll Calls - lists of people
Roll of Honour - of those who served and died


Drama and Plays
Anecdotes and Trivia
Archives
Historical Documents
Photo Gallery
Centenary Celebrations
OP E-Group
Old Prunitian Society - check out details of contacts in your part of the world
Related Web Sites
What's New on the Site


---
As always there is a need more photographs, biographies, anecdotes, copies of old documents and lists, etc etc - anything to add to the interest of the site and to preserve the history of the school. For more information see the Archives page.

---

This site is maintained by Gordon Poultney (Lloyd 1970 to 1975) now in Stony Plain, Alberta, Canada

Last Updated : August 22, 2005

Disclaimer